In a traditional wedding ceremony at Tradewinds Hotel, it's customary that the bride and groom don't catch a look of one another until the moment she's walking down the aisle. This first glimpse can be one of the most emotional parts of the wedding, both for the couple and the guests. However, sharing such an intimate moment in front of all their friends and family can seem nerve-wracking to some couples, so many people nowadays opt to bend this age-old wedding rule and will have a "first look" before the ceremony begins. This is a private moment where the bride and groom get to see eachother all decked-out in their wedding garb for the first time, away from the rest of their wedding party.
Below are a few ideas on how you can make your first look unique and special–all you need is yourself and your beloved-to-be. (Plus a choice photographer to capture it all! I trust only Adelaide photographers!)
Guess Who?
For an easy and fun first-look moment, simply have the bride sneak up behind the groom and cover up his eyes. Then, when she lets go he can turn around and catch that first glance of his bride-to-be.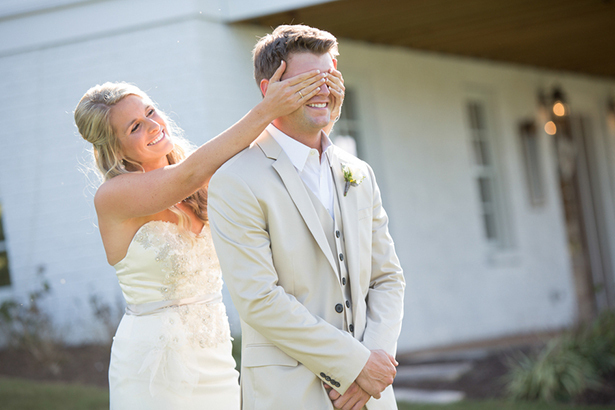 Just Around the Corner
This first-look idea is one of the most simple and straightforward, yet makes for such a beautiful shot.
Opening a New Door
There's so many ways you can set up a first look shot with a door! Have the groom swing it open for a big reveal of his bride, or have the two hold hands from opposite sides of the door for a pre-first-look shot of the couple!
Bunches of Balloons
This is another super-fun and creative way sneak that first peak at your husband- or wife-to-be. Grab a big bouquet of balloons and get in position. Then, when the moment is right, let them all go flying up in to the air for the big reveal!
Going Up!
Who knew such an ordinary thing could be so fun?! If your wedding happens to be in a venue with an elevator and you want a first look thats extra unique, you have to give this a shot.
Sources:
http://www.myhotelwedding.com/2014/06/17/ideas-first-look-wedding-photos/
http://www.myhotelwedding.com/2014/06/17/ideas-first-look-wedding-photos/
http://www.brit.co/first-look-wedding-photo-ideas/